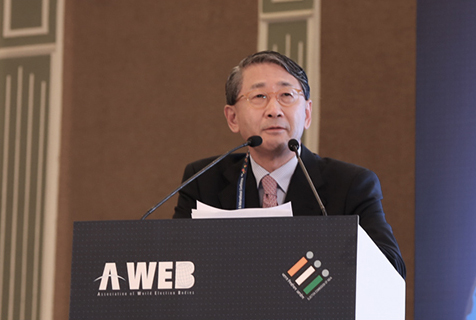 Nationality : Republic of Korea
Organization : A-WEB
Position : Secretary General
Secretary General of the Association
of World Election Bodies Jonghyun Choe
Welcome to the A-WEB homepage.
The main vision and mission of A-WEB are "fostering efficiency and effectiveness in conducting free, fair, transparent and participative elections worldwide", and "identifying latest trends, challenges and developments in democratic electoral management and electoral processes and facilitating appropriate exchange of experience and expertise among members."
In order to achieve this vision and mission, A-WEB implements visitor program and observation program at request of members and international organizations. It also aims to strengthen capabilities of election officials for more effective electoral management. Furthermore, A-WEB supports the members and international organizations to share knowledge, information, and studies with election management bodies and stakeholder. In addition, A-WEB assists revising election law by encouraging the members to cooperate with one another.
In the course of fulfilling such goals, A-WEB will do its best to establish sustainable governance in every part of the world. I hope that you would continue to show keen interest in A-WEB and actively participate in our activities as A-WEB pursues its endeavor for democracy for all.
Thank you
The General Assembly shall approve the appointment of the Secretary General taking into account the recommendation of the Executive Board.
For more detail, please refer to the Article 18 of the Charter of A-WEB.
Download the Charter