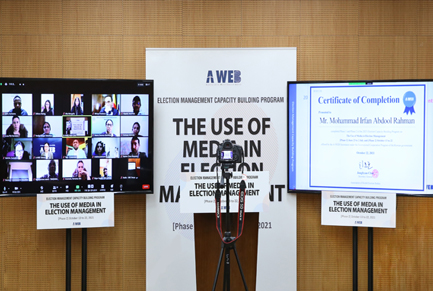 A-WEB organizes the Election Management Capacity Building Program for election officials to strengthen the election management capacity and manage their elections more effectively and professionally in the future.
More specifically, the Election Management Capacity Building Program aims:
to support the participants to study various electoral systems, discuss issues and challenges each EMB is facing and come up with solutions to the shared problems;
to provide an opportunity to exchange good practices and learn an international standard of election management;
to establish a network of election officials around the world and encourage them to share their experiences and expertise.
Diverse professional electoral stakeholders are invited as a guest lecturer to help participants have a better understanding of all aspects of election management and electoral cycle.The program also enables the participants to learn not only from the lecturer but from participants themselves through interactive discussions.
Each program addresses a particular topic on the electoral process such as political participation of marginalized groups, gender equality, and media in election management, giving the participants a chance to consider overlooked elements that may affect the fairness of their election management.

['20 1st ONLINE CBP] First day short form Clip

Date : 2020-10-23