News View
2017 Ecuador Election Visitor Program (EVP)-2nd Round of Presidential Election
Last updated 2017-04-13
attachment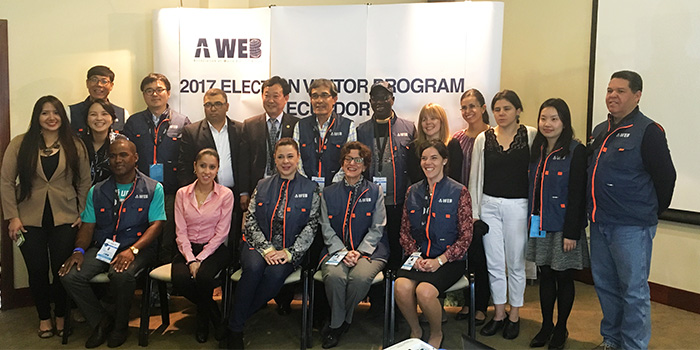 The 2017 A-WEB Election Visitor Program (EVP) for the 2nd Round of Presidential Election on 2 April 2017 was held from 29 March to 4 April in Ecuador.
A total of 11 participants from nine countries, headed by Counselor Carmen Altagracia Imbert Brugal of the Junta Central Electoral (JCE) of the Dominican Republic, participated in this EVP.
During the briefing session, welcoming remarks by the Head of the EVP and Director Seong-bae Kang of A-WEB Secretariat were followed by presentations on "Election System of Ecuador," "Election Management & Voting and Counting," "Campaign Issues," "Transmission of Results & Recommendations of International Missions after the 1st Round," and "How to Fill in the Checklist." The briefing concluded with an interactive Q&A Session among participants.
On Election Day, Sunday, 2 April 2017, participants observed the opening, voting, closing and counting in various precincts as well as transmission of RTS-1000 scanners in RTPAs, and visited the Results Processing Center in the Pichincha Provincial Delegation. Participants who had been deployed to Imbabura Province returned to Quito on the same day.
On the following day, a Debriefing Session was held with farewell remarks by the Head of the EVP and Director Seong-bae Kang followed by a discussion of observation results from Pichincha and Imbabura Provinces and the 2nd Round of Presidential Election EVP in general. Participants were able to share their experiences in election observation and improve their understanding of each other's different election systems.