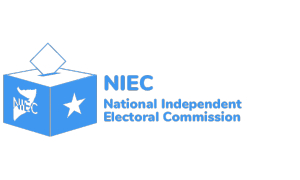 National Independent Electoral Commission (Somalia)

EMB : National Independent Electoral Commission
Website : http://niec.so/en/
Join : 2017
EMB Information

· Date of formation : 2015

· Number of staff at EMB

- Members: 9 members consisting of former ministers, members of Parliament, legal experts, former directors, civil society leaders and reputable individuals

· Main functions of EMB

- Preparation and management of elections at federal, regional and district levels.

- Delimitation of electoral wards, registration of the voters and counting the votes.

- Organizing and monitoring the political parties in accordance with the law on the registration of political parties and other laws of the country, and also the political process and policies of the political parties shall be observed.

- Facilitating, monitoring, managing and evaluating elections, at all levels.

- Raising public awareness on the general conduct of the elections, instructions and any other matters related to the elections.

- Announcement of the results of the elections

and the settlement of electoral disputes.